It's

Wednesday

11:20 AM

—

Opening in 40 minutes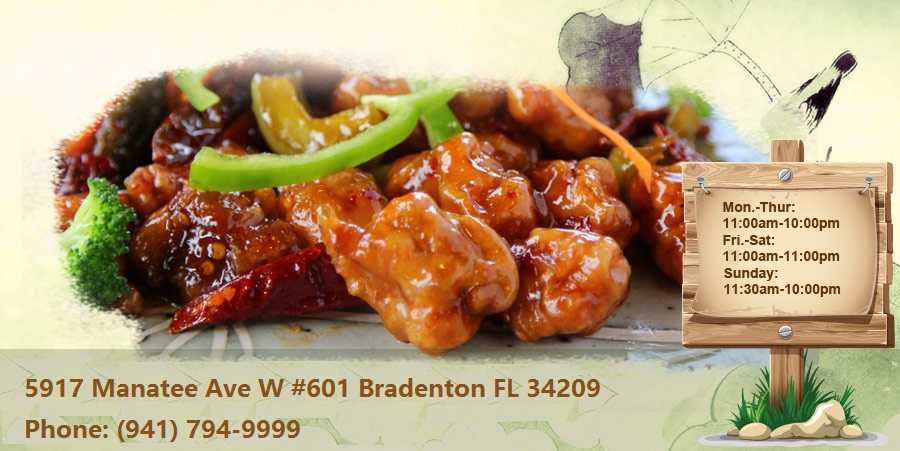 Welcome to Golden Wok Chinese Restaurant
located on 5917 Manatee Ave W #601, Bradenton FL
Tel: 941-794-9999
We do our best to offer high quality Chinese food as well as satisfactory service for our customers. 
You can order food online for pick up or delivery. Browser our menu.
Golden Wok offers delicious dining and carry out to Bradenton, FL.
Golden Wok is a cornerstone in the Bradenton community and has been recognized for its outstanding Chinese cuisine, excellent service and friendly staff.
Our Chinese restaurant is known for its modern interpretation of classic dishes and its insistence on only using high quality fresh ingredients. Enjoy your delicious Chinese meals.
At restaurant Golden Wok we offer meals of excellent quality and invite you to try our delicious food.
The key to our success is simple: providing quality consistent food that taste great every single time.
We pride ourselves on serving our customers delicious genuine dishes like: Chinese 
Eat delicious food. Grab a drink. But most of all, relax! We thank you from the bottom of our hearts for your continued support. Thank you. 
Try Online Ordering
Online ordering NOW enabled for pick-up or delivery. Just tell us what you want and we'll prepare it as fast as we can.